Gold Star Mother Kathy McCollum, the mother of Lance Cpl. Rylee McCollum who was killed in Kabul released a statement unloading on Biden and saying she wants Trump to run in 2024.
She called out both Biden and Pelosi for their disrespect of her son.
Here is her statement:
"Thank you. Just want the family to know I support them. We need the corrupt pseudo president gone. President Trump has to run. My son should not be gone. President Trump would never allowed this to happen. We need him back in office to save this country. Just like he said years ago on Oprah. He would run when our country needed him. We need him. I can't live with knowing that my son's life was taken for nothing. So Biden could repay his debt to China. They will now have full control of Afghanistan and my son will be a sacrificial lamb. My son was murdered for Biden optics. I will become more vocal soon. Grieving and not sure I can control my mouth. But watched Biden disrespect my son while I was standing across from him and he was checking his watch, and then Pelosi denying my son recognition and turning her back. Just as she tore up Donald's speech. We cannot give up our country. So even if no one gets back with me. I will always fight for the Trump administration just as my son did."
Trump then responded.
Trump said: "Thank you, Kathy. America feels your loss and fully understands your pain. Rylee will never be forgotten."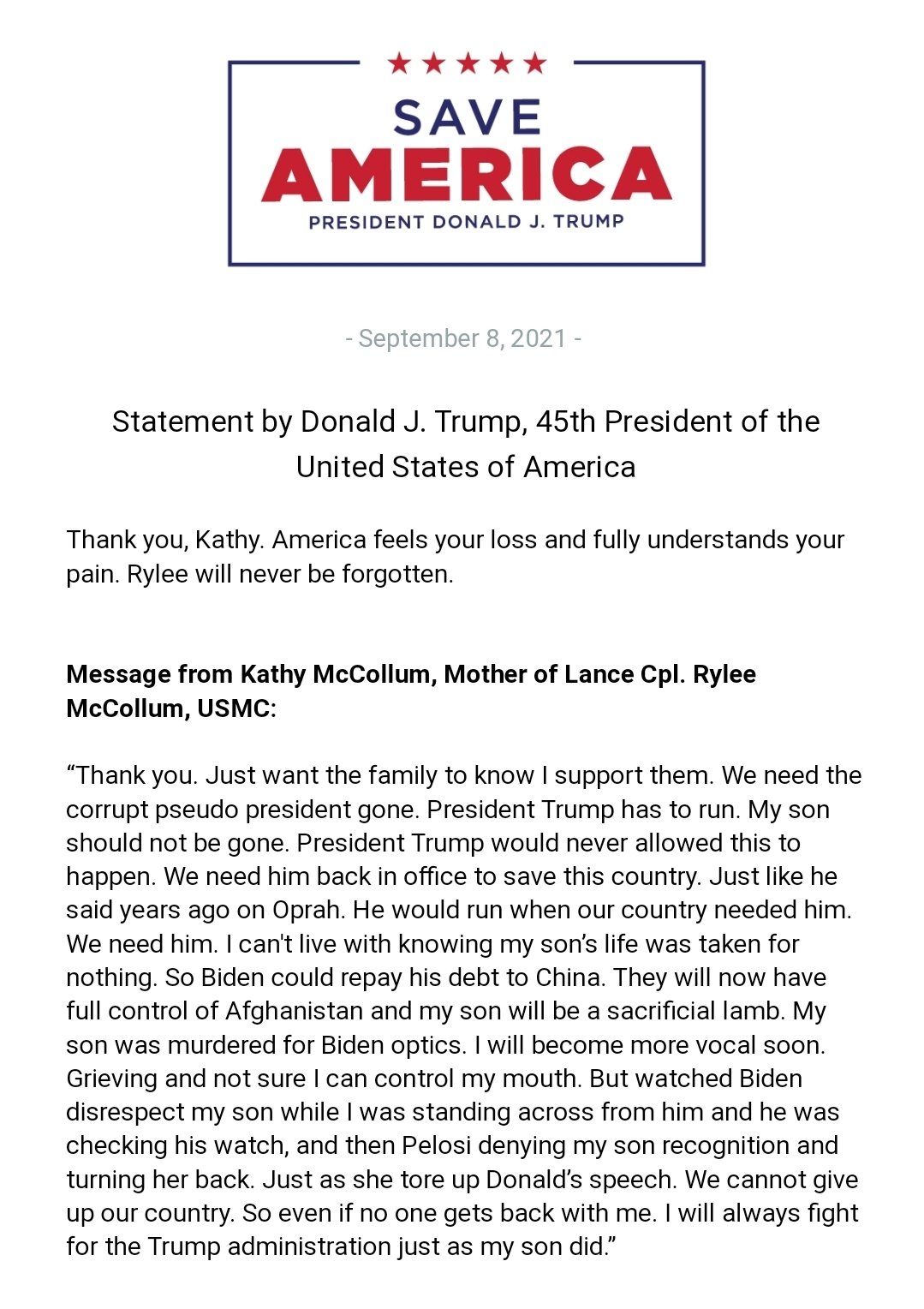 Completing this poll entitles you to ProTrumpNews updates free of charge. You may opt out at anytime with a single click. Here's the Privacy Policy.
Kathy McCollum isn't the only Gold Star mother to speak out.
Shana Chappell, the mother of Kareem Nikoui, one of the 13 US service members killed in Kabul also released a statement directed towards Trump.
Chappell asked Trump to attend the funeral of her son and called Trump the "real President of the United States of America."
Trending: At World Economic Forum, John Kerry Says Fighting Climate Change Is All About Money Money Money (VIDEO)
A California Gold Star mother whose Marine son was killed in last month's ISIS suicide terror attack outside Kabul's international airport invited former President Donald Trump to her child's funeral, writing on Facebook that "[i]t would be such an honor" if he could be there.Shana Chappell's son Kareem Nikoui was one of 13 US service members — 11 of them Marines — killed in the bomb blast at the Abbey Gate of Hamid Karzai International Airport on Aug. 26. She addressed Trump on her Facebook page Sept. 2, writing, "I would love if some how [sic] my President ( you Mr. Trump) could be present as i [sic] lay my Beautiful baby boy Lance Cpl. Kareem Nikoui to rest."It would be such an honor to meet the real President of the United States of America, President Trump," she continued. "I love you and America loves you.""Thank you Shana," Trump responded in an emailed statement from his Save America PAC on Labor Day, adding, "our Country loves you and especially loves your beautiful boy, Kareem." He did not say whether he would attend the funeral service for Nikoui, which is scheduled for Sept. 18.