Good news for the MAGA movement.
Trump-backed US Senate Candidate Herschel Walker has a massive lead in the GOP Primary.
This comes from a new poll from the Trafalgar group.
Massive #HerschelWalker lead – #GASen #GOP #Primary @trafalgar_group #Poll released today on @seanhannity radio show

75.7% @HerschelWalker,
6.3% @GaryBlackForGA,
2.7% @LathamSaddler,
2.2% @kelvinking4ga,
13.2% undecided#gapol See Report: https://t.co/Z8d2pQcmIX pic.twitter.com/vycMeVyzZi

— Robert C. Cahaly (@RobertCahaly) September 10, 2021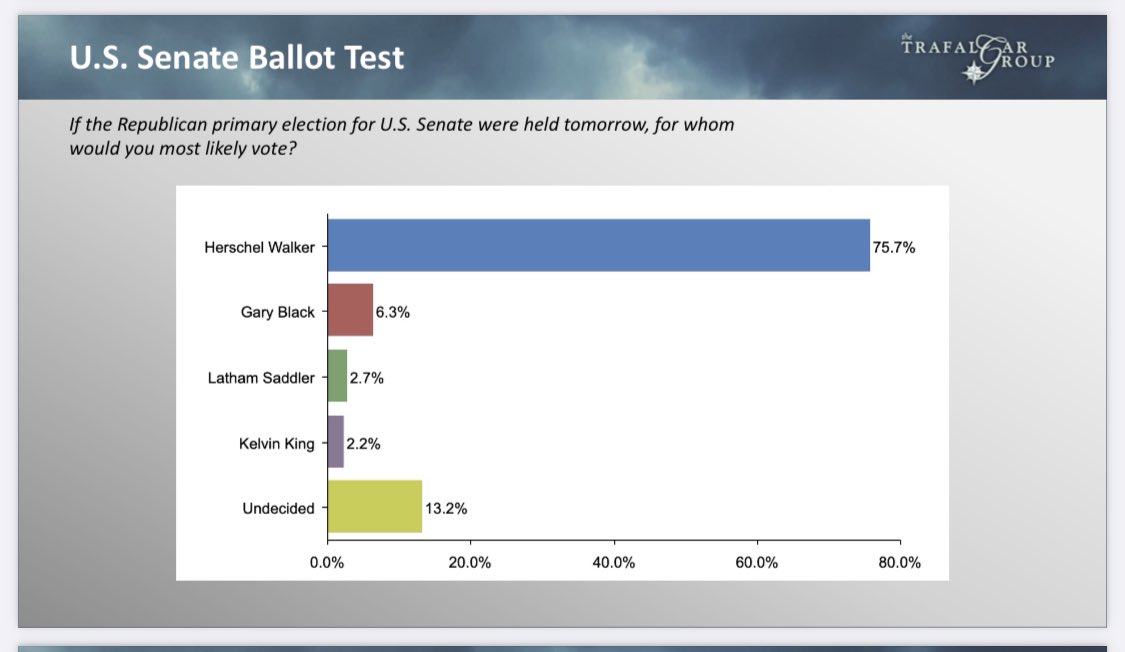 Completing this poll entitles you to ProTrumpNews updates free of charge. You may opt out at anytime with a single click. Here's the Privacy Policy.
Trump endorsed him back on September 2nd.
"Herschel Walker is a friend, a Patriot, and an outstanding American who is going to be a GREAT United States Senator. He embodies "America First" and the winning spirit of Georgia. Herschel is tough on Crime and Borders, and he will always stand in support of Law Enforcement. Military, and our Vets. He will fight hard for our Second Amendment and Voter Integrity. Herschel Walker will never let you down. He was a great football player and will be an even better U.S. Senator—if that is even possible. He has my Complete and Total Endorsement!"
Trending: Michael Bloomberg Event With Judge Judy Draws Pitiful Crowd Of 45 People
Mitch McConnell is doing all he can to stop Herschel Walker and put in a RINO instead.
From Manu Raju of CNN back on August 5th:
"New – GOP fears grow over Herschel Walker in #gasen, who has been pushed by Trump. McConnell has privately suggested that Loeffler and Perdue should take another look at the race. McConnell meeting with Latham Saddler this week.

Three prominent GA consultants engaged in informal talks with Walker this summer. But all three declined to work on his Senate campaign. Cornyn: "I want to win that race, and so I want the best nominee. I don't know whether he's it."

McConnell meeting with Saddler and likely with other potential GA candidates as he's raised concerns about Walker. Saddler told us he wouldn't get out of the race if Walker ran – and also couldn't say yet whether Biden or Trump won GA even as recounts confirm Biden win

Lindsey Graham is still behind Walker, and Buddy Carter — who is likely to run if Walker doesn't — also standing behind Walker. "He's not the first person to struggle," Graham said. Asked if he thought Walker would still run, Graham said: "I'd be surprised if he didn't."